30 Best Gifts To Buy Every Type Of Dad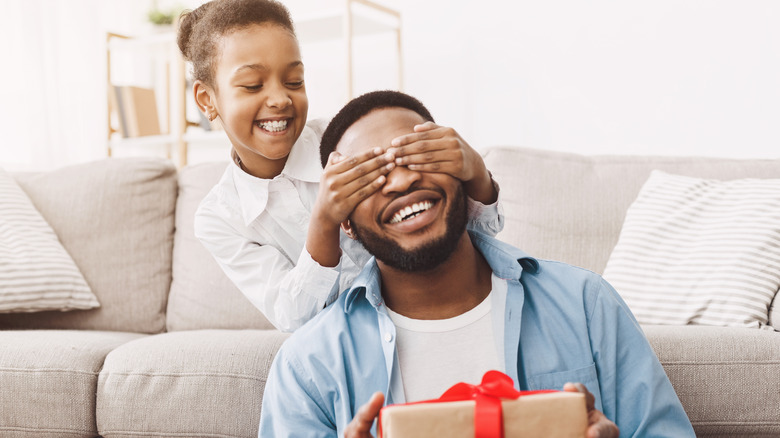 All prices are current as of time of publication. If you click a link and buy a product from a merchant, we may be paid an affiliate commission.
Uh-oh, Father's Day is coming up fast! If you're having trouble thinking up a great gift for your dad, welcome to the club. Dads are notoriously bad at dropping hints about what they really want, but you just know you're going to feel terrible if you take him at his word and get him "nothing, really." You also know that whatever you're going to get Dad, it can't be a necktie. While this may be the all-time cliché Father's Day gift, it's one that probably no dad, ever, was actually excited to receive –- and do dads even wear ties anymore for anything other than the most formal (i.e. coerced) occasions)?
Rather than buying Dad a gift that's just going to hang around, why not get him something he's actually going to enjoy? All dads are different, but we searched far and wide (okay, on Amazon, but they've got like a zillion things for sale) to find this selection of gifts. No matter what floats Dad's boat, there's bound to be something here that'll make his Father's Day.
DIY dads will put this gift to good use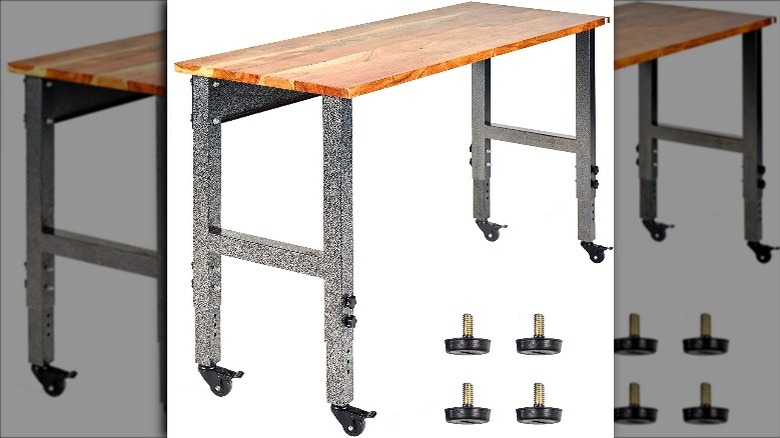 If your dad's a wannabe Bob Vila, there's nothing he enjoys more than tinkering. This FedMax work bench is the perfect surface for repairs large and small, and even if Dad never does get around to tackling that lengthy list of honey-dos, it can also double as a kitchen table or even a cool, industrial-looking desk. You can adjust the height, and it can be used either with wheels or as a stationary piece of furniture.
Purchase the FedMax Work Bench on Amazon for $264.99.
For tech-loving dads who never leave home without their laptops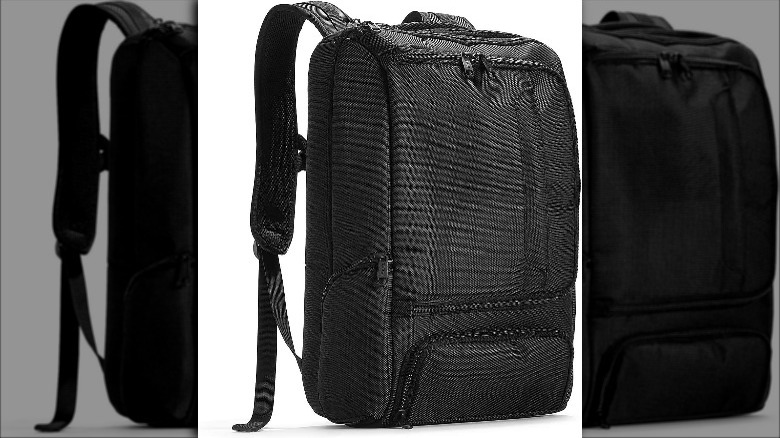 Whether dad's a digital nomad or just enjoys surfing the web at his local Starbucks, he could use a sturdy case to carry his trusty laptop. This eBags Pro backpack was meant to fit any laptop up to 17 inches, and the laptop sleeve is padded and also fleece-lined for extra protection. The bag has extra pockets to store other necessary gear like the charger and maybe a mouse and comes in three dad-approved colors: navy blue, indigo, and sage green.
Purchase the eBags Pro Slim Laptop Backpack on Amazon for $79.99.
Practical dads will appreciate this useful gift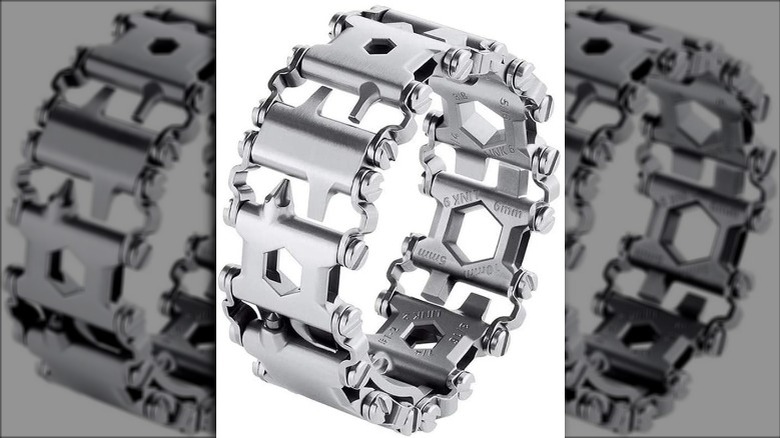 Dad always taught you to be practical, right? And what could be more practical than being prepared with the right tool for the job at all times? With this OMODZH multi-function tool bracelet, Dad will have access to 29 different tools, including wrenches, screwdrivers, and even a corkscrew, all cleverly disguised as a super-cool stainless steel chain bracelet. It's the ultimate accessory, perfect for hiking, camping, or just day-to-day emergencies. 
Purchase the OMODZH Survival Multitools Silver Bracelet on Amazon for $35.95.
Gardening gifts for green-thumb dads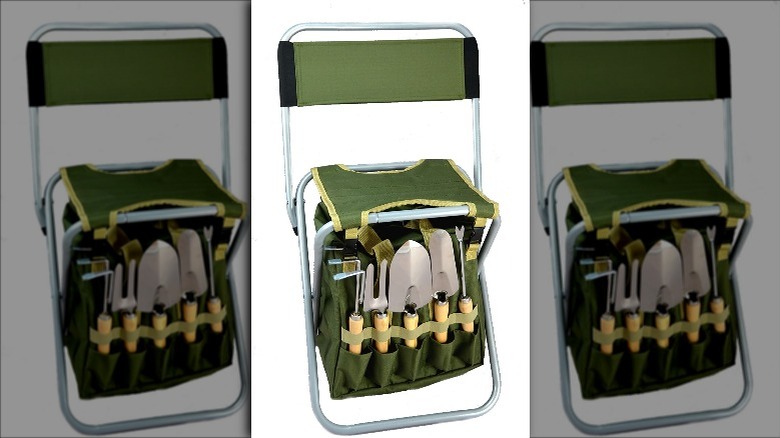 If Dad likes nothing more than to spend a weekend tending to his beloved plants, he'd love a gardening-related gift. This Psychedelic Salad Kit by Plant Theatre is bound to grant him neighborhood bragging rights. After all, who else is going to be growing round yellow cucumbers or multicolored radishes? This groovy kit includes growing pots, peat blocks, and plant markers that will allow Dad to start the seeds inside the house and then transfer them safely to the vegetable patch once they're starting to sprout.
If Dad spends a lot of time outdoors in the garden, he might appreciate a gift that will get him up off his knees. The Bo-Toys folding gardening stool that comes as part of their 10-piece tool set will allow him to stay comfortably seated while he tends his plants. The set also features a detachable tote filled with tools including a trowel, a weeding fork, and a pair of sturdy gardening gloves, and there's even enough room to hold a beer (or other beverage) for Dad to enjoy as he's digging in the dirt.
Purchase the Plant Theatre Psychedelic Salad Kit on Amazon for $16.99.
Purchase the Bo-Toys 10-Piece Gardening Tool Set on Amazon for $49.95.
If your dad's the king of the backyard barbecue, he'll love this grilling gear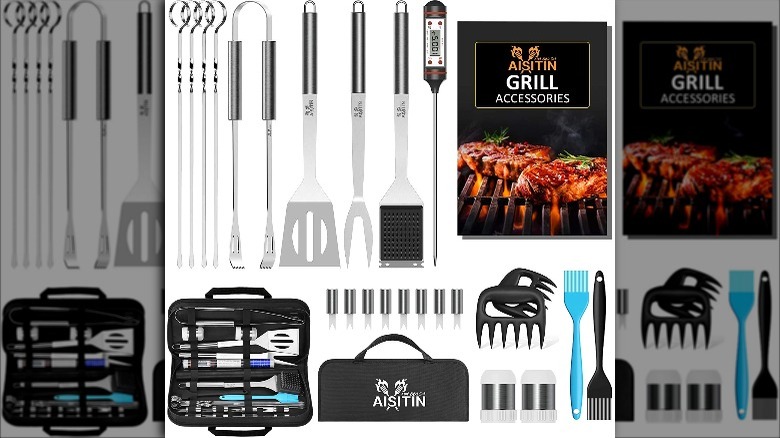 Does Dad fire up the grill every weekend, rain or shine, from April right up through October? If so, he deserves some top-notch grill accessories. This 25-piece set from AISITIN includes a meat thermometer, a grill brush a spatula, tongs, meat claws, shish kebab skewers, corn holders, spice shakers, oil brushes, and a barbecue mat, all packed in a handy carrying case. These stainless steel tools are not only durable, but look pretty sharp, too, and make an ideal gift for the grill enthusiast.
Purchase the AISITIN 25-Piece Grill Accessories Set on Amazon for $26.99.
A thoughtful gift for the dad who's not afraid to be sentimental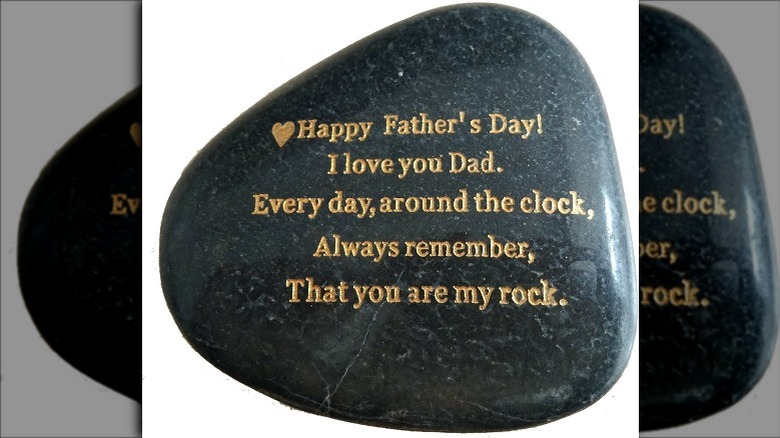 While dads aren't always the greatest at expressing their emotions, that doesn't mean they don't care deeply about their kids. Why not show him the feels go both ways with a gift that expresses how much he means to you? This engraved stone has a sweet little poem that will always remind him that he's your rock, now and forever. It's small enough so Dad can carry it in his pocket, but it also makes a beautiful keepsake for his desk or display cabinet.
Purchase the STERLINGCLAD Father's Day Engraved Rock on Amazon for $29.99.
Cheap gifts for celebrating Father's Day on a budget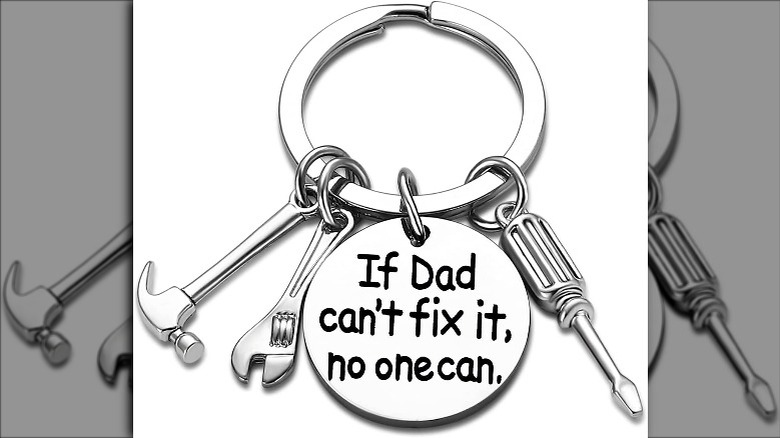 Dad didn't teach you to throw away your money, so he wouldn't want you blowing big bucks on a gift for him if you're barely able to scrape up rent money each month. Still, even on a tight budget, you want to get him some small token to celebrate Father's Day, so here are a few ideas for gifts that won't bust the budget.
If Dad's a Tim the Tool Man type, this keychain with mini tool charms will nail your gift-giving dilemma for under 10 bucks. He might also appreciate this oh-so-useful magnetic wristband that will ensure he'll never drop a nail or screw again. Got a few bucks more? Any dad would be sure to like this cool multi-tool pen that doubles (or sextuples) as a ruler, a level, a stylus, and two types of screwdriver. It's available in a variety of colors, and most of these cost less than $15.
Purchase the Nimteve Dad Keychain on Amazon for $8.59.
Purchase the Cutier Multi-Tool Tech Pen on Amazon for $12.79.
Purchase the AISINO Magnetic Wristband on Amazon for $7.99.
Any dad would get a kick out of this gag gift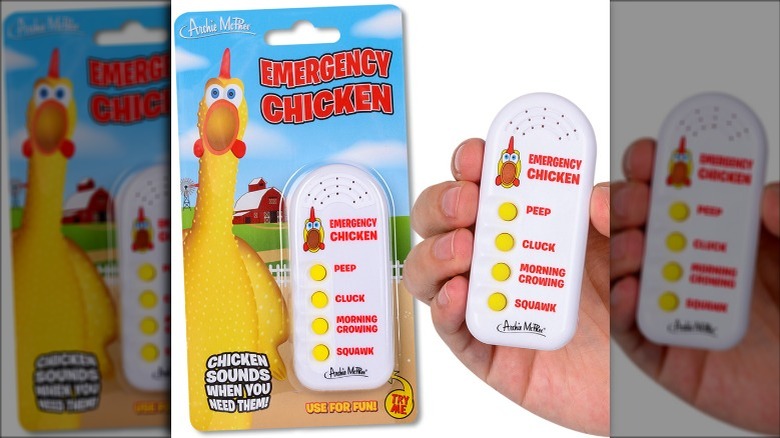 Want to give Dad a good laugh for his special day? First rule of comedy: nothing is funnier than chickens. For some reason, these dumb clucks are always good for some yuks. While Dad can't carry a chicken with him wherever he goes, he'll always be prepared for awkward silences, uncomfortable subjects, or other conversational emergencies with this pocket chicken noisemaker from Archie McPhee. (Tell him to keep it on hand next November to forestall those awkward Thanksgiving dinner political debates!)
Purchase the Archie McPhee Emergency Chicken Noise Maker on Amazon for $9.99.
For a dad who's the biggest Star Wars geek in the known universe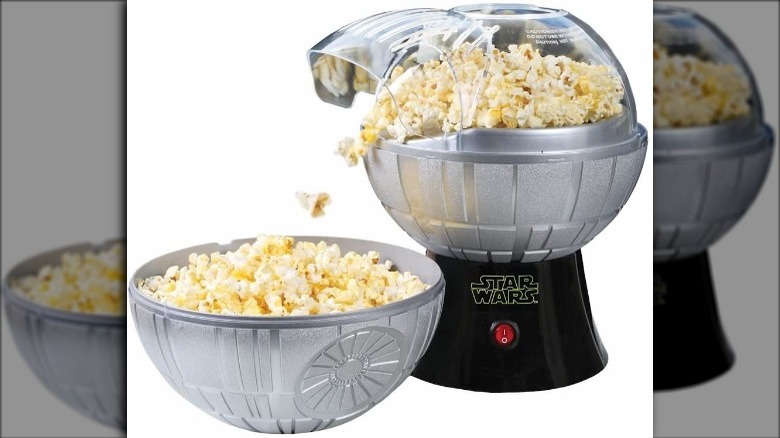 Does your dad go around intoning "Luke, I am your father" even if your name's not Luke? Or worse, did he actually name you Lucas and you have a brother called George? Well, in that case, you've probably already gifted him with every Star Wars t-shirt in the galaxy, and he's got the entire movie series available to stream upon demand. What he may not have, however, is an appropriately Star Wars-themed snack to accompany his binge-watching. Well, what could go better with movies than popcorn, and what Star Wars fan could resist a popcorn maker shaped like the Death Star?
Purchase the Uncanny Brands Star Wars Death Star Popcorn Maker on Amazon for $49.99.
Beer-drinking dads are sure to enjoy these gifts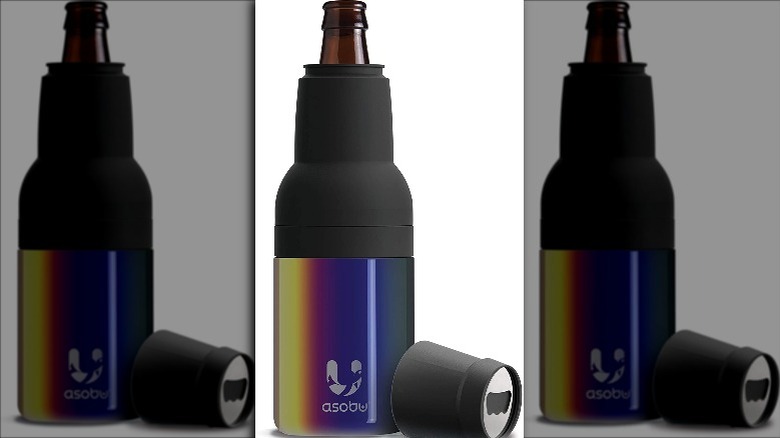 Does your dad drink beer? Is your dad British? If the answer to the first question is yes and the second is no, then it's a pretty sure bet he enjoys his beers nicely chilled. As the old saying goes, only mad dogs and Englishmen drink their beer warm (or something like that). The problem is that when you're enjoying a cold one on a hot day, it soon turns into a tepid one and goes from refreshing to gross in no time flat. Help Dad and his beer keep their cool with these Frosty Beer 2 Go vacuum-insulated coolers that work for both bottles and cans.
If your dad's more of a beer connoisseur, he might really appreciate the FIZZICS DraftPour Beer Dispenser. Using any bottle or an of beer, this handy little gadget converts them into the kind of nitro-style drafts you can usually only enjoy at a trendy bar.
Purchase the Asobu Frosty Beer 2 Go Bottle and Can Cooler on Amazon for $29.99.
Purchase the FIZZICS FZ403 Draft Pour Beer Dispenser on Amazon for $148.10.
Give Dad the gift of backyard fun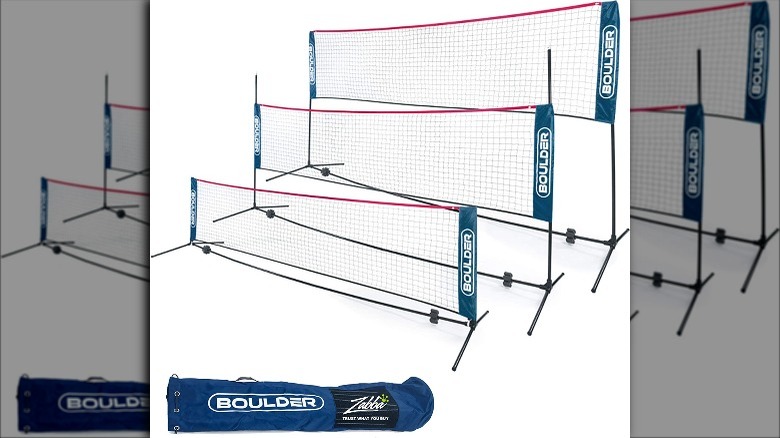 The best thing about Father's Day, besides the fact that it celebrates dear old Dad, is that it happens right as summer is getting underway. That makes it the perfect holiday to celebrate with an outdoor get-together featuring lots of good food and plenty of fun in the sun. To add to the enjoyment, gift dad with a portable, adjustable-height net that can be used for tennis, soccer, volleyball, badminton, or just about any other backyard sport that needs a net.
Purchase the Boulder Portable Badminton Net Set on Amazon from $49.99.
This funny gift is guaranteed to get dads grinning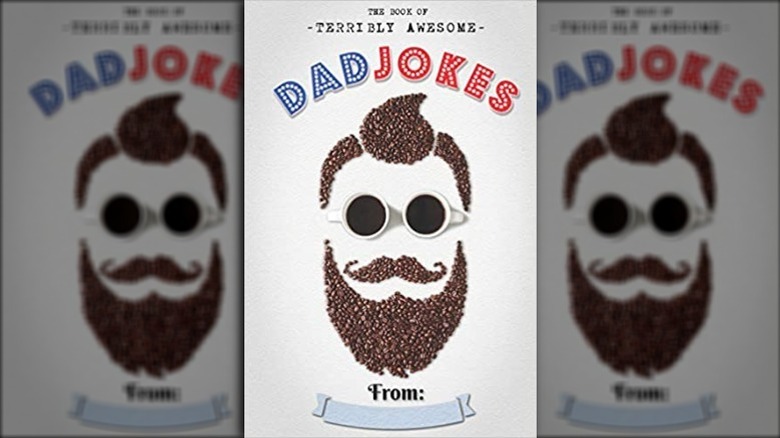 When does a joke become a dad joke? When it's full groan and the punch line becomes a-parent! Ba-dum tss. If your dad's in desperate need of new material, get him a gift that he, at least, is bound to enjoy: "The Book of Terribly Awesome Dad Jokes." Surely there must be a few jokes in here you haven't already heard, although chances are, Dad (and the whole family) will have them all memorized long before Labor Day.
Purchase "The Book Of Terribly Awesome Dad Jokes" on Amazon for $7.99.
Easy-riding dads will appreciate this motorcycle phone mount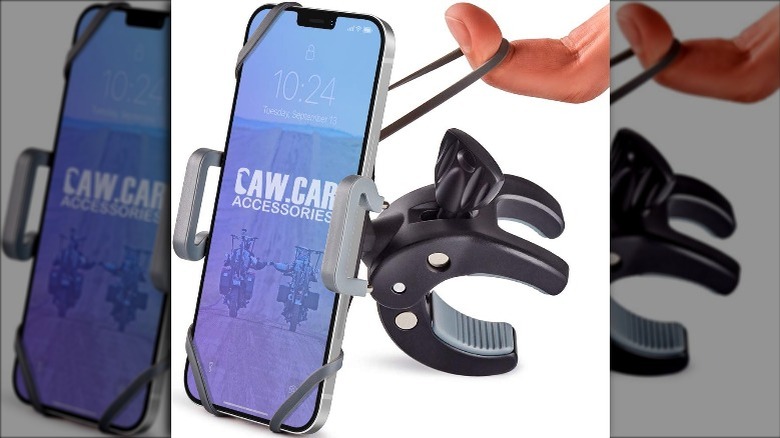 If your dad rolls on two wheels, a gift of cycling gear will always come in handy. Whether dad rides a Harley or a 10-speed, he'll be able to make good use of Caw.Car's handlebar-mounted bracket for his cell phone. It adjusts to work with both motorcycles and bicycles, and will allow dad to pull up Google maps or perhaps play some tunes as he rides. This phone mount is fully adjustable so he can tilt his phone to any angle and is rugged enough to handle even the roughest riding conditions.
Purchase the CAW.CAR Motorcycle Phone Mount on Amazon for $25.95.
These personalized gifts are as unique as your one-of-a-kind dad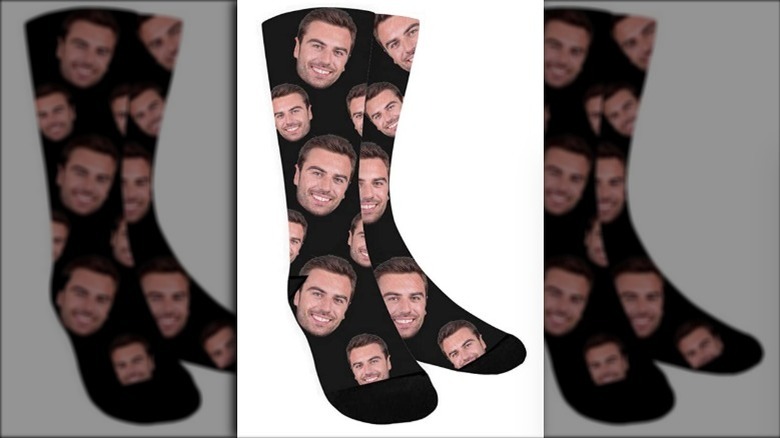 All dads, or at least most dads, do tend to have a few things in common: telling bad jokes, offering unsolicited advice, and wanting to fix all your problems, particularly if that fix involves duct tape. That being said, they are all, each and every one of them, their very own person, so sometimes any old gift just won't do. If you want to give your dad a gift that he'll never get from anyone else, why not a pair of socks with your face on them? Or maybe mom's face, or your brother's, or even his own face? These ShineSand Custom Face Socks will digitize any photo you send and apply it to a colorful pair of socks.
If Dad's not a novelty sock guy, he might prefer a more dignified monogrammed money clip. This Left Coast Original leather money clip won't just hold cash, but also has driver's license and credit card pockets so it can actually serve as a stripped-down wallet. Not only can you have it engraved it with a monogram, but you could also use the engraving to send a special message to Dad. The engraved text can be up to 1,000 characters in length, and you can have the clip engraved on both sides for an additional charge.
Purchase the ShineSand Custom Face Socks on Amazon for $12.99 to $15.99.
Purchase the Left Coast Original Personalized Leather Magnetic Money Clip on Amazon for $33.90
Let your dad discover his creative side with this artistic gift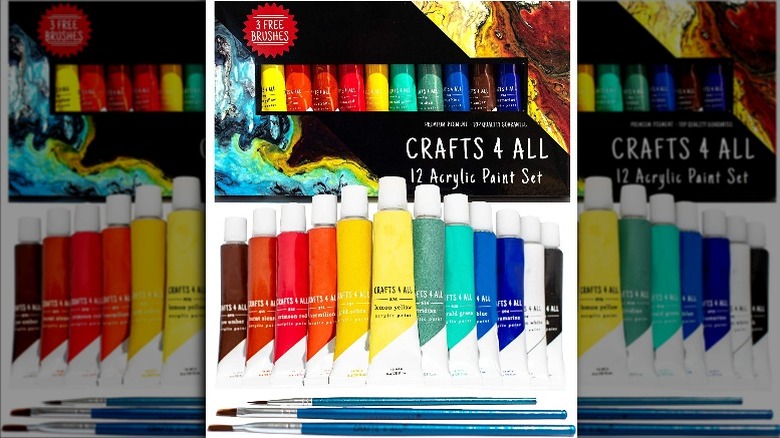 Does your dad love to watch Bob Ross? If you've ever heard the words "happy little trees" or "happy little clouds" pass his lips after a Bob-a-thon, he might like to get in touch with his own inner artist. The Crafts 4 All acyylic paint set includes 3 happy little paintbrushes as well as a dozen tubes of paints in happy little colors ranging from burn sienna to gold ochre to phthalo blue. Gift him this paint set along with a few blank canvases or even a stack of heavy art paper, and be sure to remind him "There are no mistakes, only happy accidents."
Purchase the Crafts 4 All Acrylic Paint Set on Amazon for $11.99.
Wannabe-chef dads will be thrilled by this gift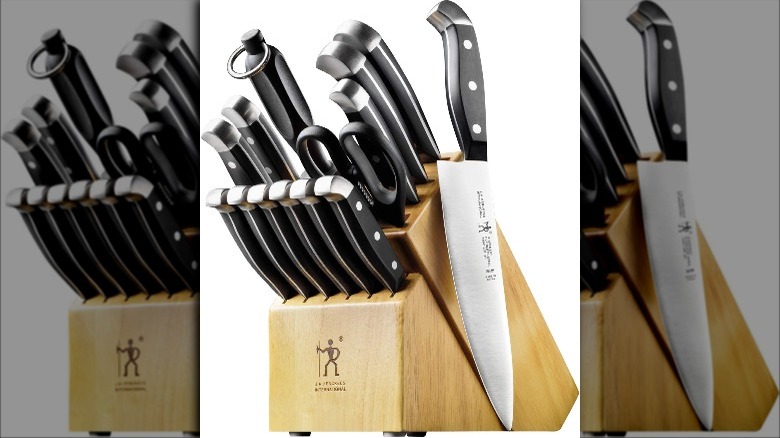 If Dad's a Food Network junkie, he might be itching to get into the kitchen and start cooking, but his culinary efforts are might not be as successful as he hopes if he doesn't have the right equipment. The one thing every chef swears by is his knife set, but many amateur chefs try to make do with any old knives they have lying around in the kitchen drawer.
This J.A. Henckels kitchen knife set will make sure Dad always has the right knife on hand for any kitchen task he tackles and will be sure to up his slicing and dicing game. These sharp, sturdy knives include a paring knife, a serrated utility knife, a bread knife, a chef's knife, and several santoku knives and the set even has a pair of kitchen shears as well as a sharpening stone and a knife block to store them all in.
Purchase the J.A. Henckels Kitchen Knife Set with Block on Amazon for $139.95.
This gift will hit a home run with baseball-loving dads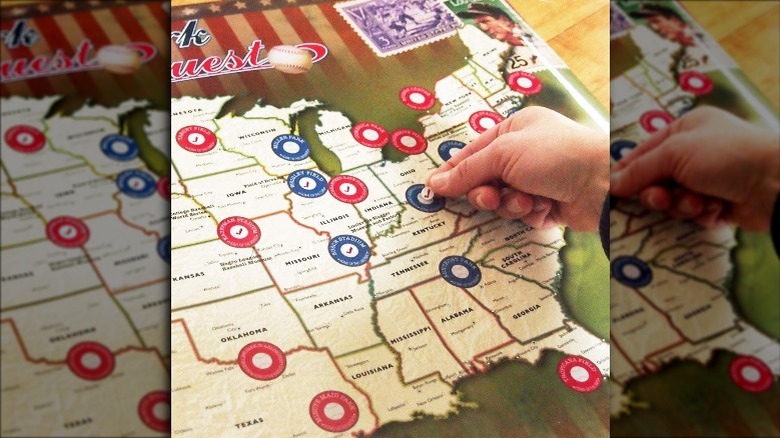 One thing that's on every baseball fan's bucket list is to watch a game in each and every MLB ballpark. Whether dad's rounding third and headed for home or his ballpark pilgrimage is still in the fantasy stage, he's sure to appreciate a map to help him plan a trip to the fields of his dreams. This Ballpark Travel Quest poster set includes a heavy laminated map of all 32 major league ballparks (marked with red dots for American League parks and blue for National League ones), but comes with stick-on check marks Dad can use to mark the parks he's already visited.
Purchase the Map Your Travels Ballpark Travel Quest Poster Set on Amazon for $24.95.
This is a must for any dad with a beard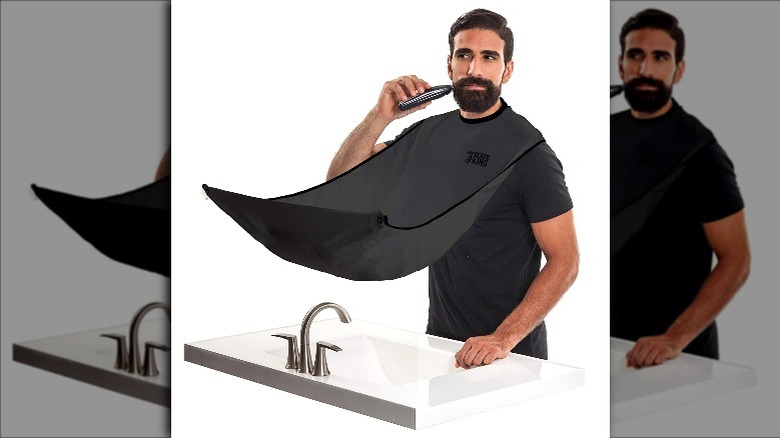 Even the most heavily-bearded of dads need the occasional trim, but beard grooming isn't the easiest thing to do over a bathroom sink> This goes double if others sharing the bathroom are going to get upset over a little mess left behind or even a clogged-up drain. With this beard bib apron by Beard King, Dad will have a handy pocket to catch all the beard clippings as well as a tray to keep scissors, clippers, and razors close to hand.
Purchase the Beard King Beard Catcher on Amazon for $12.99.
Ice cream-loving dads might enjoy making their own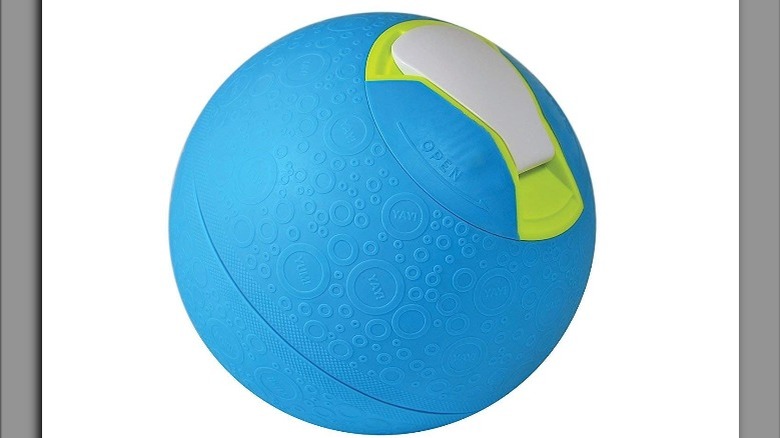 If your dad is as big an ice cream lover as our current POTUS, he's probably always got a half-gallon or two in the fridge. Has he ever tried making his own custom-flavored ice cream, though? While homemade ice cream used to be a tedious process involving lots and lots of hand-cranking or else plugging in a big, noisy machine, this Play and Freeze Ice Cream Ball turns the ice cream making process into a game.
All Dad needs to do is to fill the ball up with ice cream ingredients, rock salt, and ice, then gather all the grand kids and roll the ball around for half an hour or so. When they're done, he should have a bunch of well-exercised kids and a pint of delicious ice cream. (Calories already burned off in advance!)
Purchase the hand2mind Play and Freeze Ice Cream Ball on Amazon for $38.98.
This is a gift any dog-loving dad can't refuse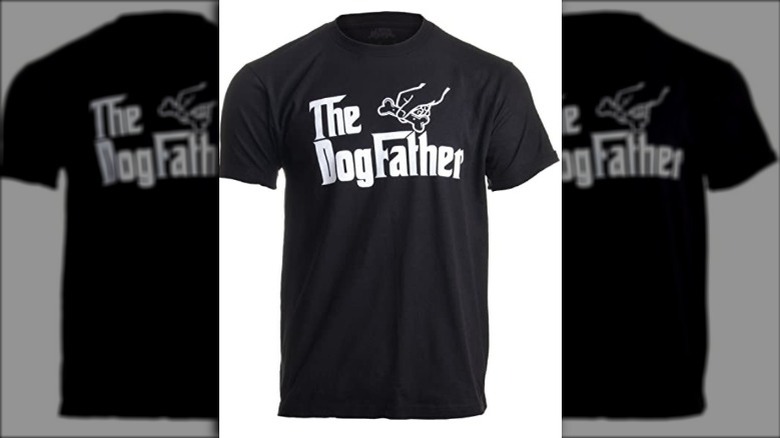 Dog dads need some love, too. While they get plenty of snuggles and kisses from their canine kids, the one drawback with having offspring of the four-footed variety is that furbabies to be pretty terrible at gifting, unless what you really want is a muddy stick. If you want to lend a helping paw, why not make a proxy purchase for your pooch? This "Dogfather" t-shirt will show the world who's a good boy.
Purchase the Ann Arbor T-Shirt Co. Dogfather T-Shirt on Amazon for $19.95.
A hot gift for a cool dad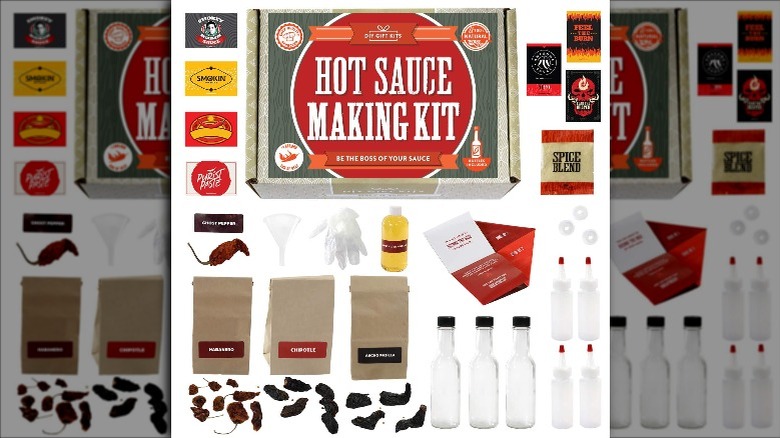 If your dad's food philosophy is "the hotter the better," he's probably always got a bottle of hot sauce close to hand. How about giving him a gift that will let him make his own sauce? This hot sauce kit from DIY Gift Kits comes with all of the ingredients to make 7 bottles of sauce with heirloom peppers including anchos, pasillas, chipotles, habaneros, and even ghost peppers. The kit even has all of the necessary bottles, funnels, and labels, and the recipes supplied will allow Dad to custom-tailor the heat levels of each sauce so they're just the way he likes them.
Purchase the DIY Gift Kits Hot Sauce Kit on Amazon for $42.95.
These gifts are for expectant dads-to-be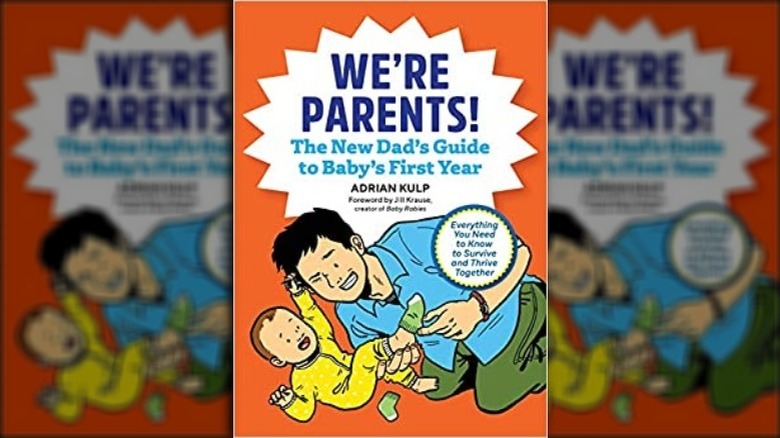 No need to wait until baby's already here to start celebrating Father's Day –- a dad-to-be deserves recognition on this special day, as well. Plus, anyone who's going to be a first-time father could probably use a helpful gift like "We're Parents! The New Dad Book for Baby's First Year" to answer all those questions he just can't bring himself to ask.
If you really want to get Future Dad ready for his new role, you could also get him a diaper bag, but not one of those cutesy ones festooned with teddy bears or Noah's Ark animals. Instead, he'd much rather have a stealth diaper bag like the High Speed Daddy Diaper Bag Backpack. This rugged-looking backpack doesn't look diaper baggish at all, but it comes complete with baby wipe and bottle pockets, a changing mat, and all the other necessary accouterments for Daddy Duty.
Purchase "We're Parents! The New Dad Book for Baby's First Year" on Amazon for $9.01.
Purchase the High Speed Daddy Diaper Bag Backpack on Amazon for $89.99.
What do you get the dad who has everything?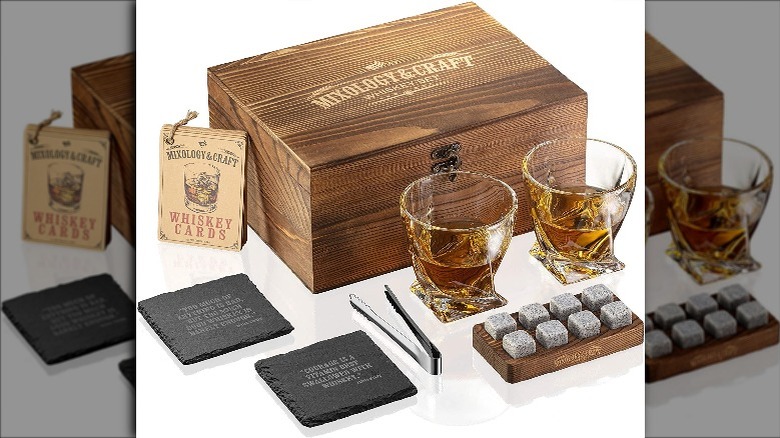 Some dads are just hard to buy for, since anything you can think of, they've already got one. Or perhaps several of them, spares stashed away since you never know when they might come in handy. If you want to give Dad something he's never seen before, you're really going to have to think outside the gift bag, but never fear, we're here to help. How about a heated neck massage pillow? This is one of those little luxuries that Dad would never, ever think to buy for himself, but once he tries it, he'll wonder how he ever got along without it.
If Dad's preferred relaxation method runs more toward a nice glass of whiskey than a neck massage, then perhaps the one thing his life has truly been missing is a set of whiskey stones. These are little granite cubes that can be popped into the freezer, then used to chill a glass of whiskey to the perfect temperature without watering it down as melting ice is prone to do. This gift set from the Mixology & Craft Store comes with the stones as well as two whiskey glasses, two coasters, a pair of tongs, and recipe cards for whiskey cocktails, all packed in a handsome wooden case.
Purchase the VIKTOR JURGEN Neck Massage Pillow on Amazon for $29.99.
Purchase the Mixology & Craft Store Whiskey Stones Gift Set on Amazon for $35.97.
Source: Read Full Article