Trying a New Workout? Try These 5 Steps to Ease Anxiety.
It was prime time in the gym: 7:15 a.m. on a Wednesday morning. The floor was packed, with weights dispersed and plyo boxes everywhere. I was there too, standing over a loaded hex bar, feeling entirely overwhelmed and so out of my element. I'd done CrossFit for years, trained for seven full marathons, but it had been a long time since I felt completely overwhelmed by a workout. Well, a string of workouts.
I had committed to a 30-day strength training program. The plan—designed by a local kettlebell expert, Lacee Lazoff—was geared toward helping me build essential strength that I'd been lacking while committing myself to so many miles for road races. For four days every week, I'd show up at my local Equinox and follow an hour-long program.
On this particular day, shit hit the fan. I felt like crying. I was having trouble even attempting numbers I'd moved effortlessly years ago at the box. My anxiety piqued, and I hit a breaking point. I hurriedly put away the barbell, and instinctively retreated to the treadmill to run a "safe" 5K and just… breathe.
I'm certainly not the only person that's ever felt crazy anxious stepping into a new type of training. For Rajah Nagarajah, a business development manager living in Portland, Maine, walking in to a CrossFit gym for the first time felt mega-intimidating.
"Being a former college athlete and having played football where we were lifting heavy weights, I knew this whole thing was going to be different," he told Men's Health. "I used to be able to lift 250 pounds in a push press, and I distinctly remember early on at the box I could barely move 115. Everyone around me was crushing, and there I was dragging my feet. I was anxious."
While Duke University research shows that working out can be a useful treatment alleviate anxiety, there's less of a discussion about the pressure we put on ourselves when we step outside of our comfort zone in the gym.
"It's normal to feel anxiety when starting something new," says Dr. Don Greene, sports psychologist and owner of Winning In Sports. "Especially for someone who has identified as being athletic or fit, they may find it overwhelming to try a new sport because failing at the new activity will go against one's perceived identity."
Does that sound all too familiar? Don't fret; you're probably not the only person in the gym or studio struggling to rein in their feelings when they face a new challenge. We talked to experts to nail down five strategies to ease the anxiety of a fresh workout routine.
5 Anxiety Tips for Better Workouts
1. Have an Open Mind
Just like when you're meeting the parents for the first time, it helps if you're willing to roll with the punches—and put on a smile.
"The best way to combat fears is to approach the new exercise or sport with an open mindset," says Greene. "Give yourself time to learn and accomplish positive repetitions, which leads to confidence and lessens anxiety.
2. Build a Strong Foundation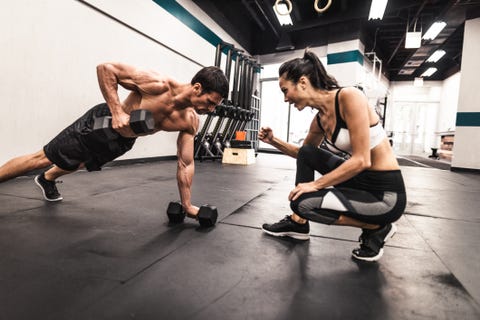 Getty Imagesfranckreporter
Whether you're hoping to become a spin class pro or want to integrate more HIIT training into your routine, find an expert who can help you with the basics.
"Having good instruction and a good base of knowledge will help you feel more at ease," says Dr. Pam Geisel, exercise physiologist and manager of performance at the Hospital for Special Surgery in New York City. Giving Muay Thai a go, for example? Once you can confidently throw a punch, then you can move on to more advanced moves like jumping knee or spinning back elbow.
3. Make Sure Your Work is Purposeful
It's a little difficult navigating what's right and wrong when you're a total newbie. Especially when you're working with a new trainer, it's critical to ask questions and make sure that lifting workouts have a purpose, according to Geisel.
"There's science behind everything happening on the weight room floor," she says. "So firstly, make sure to communicate with a trainer clearly about your goals, the things that make you comfortable. This will help prevent injury, and ultimately, lift a weight off your shoulders."
4. Bring a Friend Along for the Ride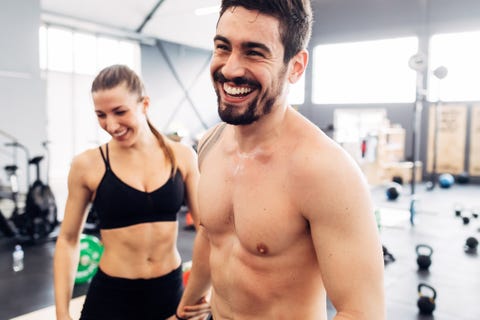 Getty ImagesEugenio Marongiu
Whether you're ringside at the boxing gym or laying down a yoga mat, finding an ally in your sweat mission can make the whole thing feel more manageable—and even improve your odds of reaching your goal. One University of Pittsburgh School of Medicine study found that 95 percent of those who started a weight-loss program with friends completed the program, compared to a 76 percent completion rate for those who went at it alone.
5. Be Willing to Accept Change
Change can be scary, whether it involves physical exertion or not.
"Although it seems counterintuitive, the fear of success manifests itself through the fear of change," says Greene. "If someone's successful at their new activity, this could lead to change in their life. Whether that means following a new diet or being committed to a new exercise routine, the bottom line results in something different than what you are used to doing."
Source: Read Full Article