Strawberry Smoothie-Filled Twizzlers Are the Perfect Summer Snack
The original Twizzlers stand up as a delicious candy all on their own. So can you imagine how freaking good the new strawberry smoothie-filled Twizzlers must taste?!
The new flavor is beginning to pop up in stores. Instagram account @theimpulsivebuy posted a picture of the double strawberry candy in Walmart, but its website has not listed them yet. However, we do know that the strawberry smoothie Twizzlers are likely a nationwide rollout, because Hershey's recently listed it on its site.
https://www.instagram.com/p/Bwu429bH8hR/
Since these are filled, I can't use them as straws in a strawberry smoothie. Spotted by Rachel C at Walmart.⠀ .⠀ .⠀ .⠀ .⠀ .⠀ #twizzlers #candy #strawberry #smoothie #sweets #junkfood #snack #snacks #snackfood #candy
A post shared byThe Impulsive Buy (@theimpulsivebuy) on
"The Twizzlers Strawberry Twists have a delicious strawberry smoothie-flavored center," the candy's description says. "Perfect for summer, they're a refreshing blend of sweet strawberry and smooth creme. The filled candy makes a great addition to cookouts or a day at the beach."
The flavor will come in 11-ounce bags, so you'll have plenty to munch on over the summer.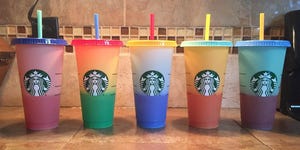 Source: Read Full Article