'Risk is not destiny': Mothers overcome the caesarean hurdle to breastfeeding
NSW is bucking the international trend to improve breastfeeding rates despite the decline in vaginal births.
Caesarean delivery, particularly when planned, can be associated with lower rates of breastfeeding, a number of Australian and global studies suggest.
Yet despite the steady rise in caesareans, the number of babies who are either partly or fully breastfed when they leave hospital has stayed steady or improved slightly, NSW figures show.
Jessica Mlozniak, 28, has had no trouble breastfeeding Cameron, 5 months, despite having a caesarean birth.Credit:Dominic Lorrimer
The latest NSW Mothers and Babies report shows planned caesareans accounted for 21.3 per cent of all births in 2017, up from 10.3 per cent two decades ago. Total caesareans – both planned and emergency procedures – now account for about a third of all births.
The percentage of babies in NSW who were breastfed at the time they left hospital has increased slightly over the past decade, from 86.1 per cent in 2008 to 88.4 per cent in 2017. However, the rate of exclusive breastfeeding has fallen, with more new mothers using infant formula as a supplement to breast milk.
Amanda Henry, an expert with the Royal Australian and New Zealand College of Gynaecologists and Obstetricians, said Australian hospitals had done a good job of helping women breastfeed after a caesarean.
"I always say 'risk is not destiny'. It might be a little bit harder, but that doesn't mean you can't successfully breastfeed after a caesarean section," Dr Henry said. "It's our challenge to help women have the best care and for it not be a self-fulfilling prophecy."
Marjorie Atchan from the Australian College of Midwives called on all Australian hospitals to implement the Baby Friendly Health Initiative, a United Nations project to promote breastfeeding as the norm.
"Women who have a caesarean section can have their baby placed skin to skin in the operating theatre or the recovery ward," Dr Atchan said. "We know that some women who have a delay in skin-to-skin contact also have a delay in the hormone required to start increasing breast milk production."
Jessica Mlozniak, 28, from Ropes Crossing in western Sydney, is breastfeeding her five-month-old baby Cameron who was born by caesarean section at Nepean Hospital. She plans to introduce solid food in a few weeks' time but does not use formula.
Mrs Mlozniak was separated from Cameron for about 15 minutes while the medical team finished the procedure, then reunited in the recovery room for his first feed. Within the first few weeks at home she contacted the Australian Breastfeeding Association for further advice and to hire a breast pump.
"When I was pregnant in my mind I always thought that if I could breastfeed my baby I'd definitely love to but I knew that not all women can, so I thought I'd take one day at a time," Mrs Mlozniak said. "We didn't have any complications, it was just a case of getting to know each other."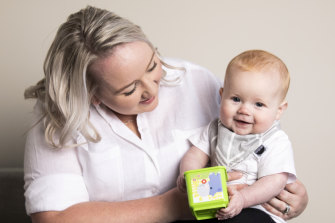 Jessica Mlozniak said Nepean Hospital and the Australian Breastfeeding Association both provided support with breastfeeding.Credit:Dominic Lorrimer
A 2017 study published in International Breastfeeding Journal, based on the experience of about 1000 women from south-western Sydney, found 94.6 per cent of women who had a vaginal birth started breastfeeding, compared with 85.8 per cent of women who had a caesarean birth.
Professor Stephanie Brown from the Murdoch Children's Research Institute said the ability to maintain breastfeeding after leaving hospital was also important and that could be affected by physical health, including recovery from a caesarean.
Three months after giving birth, 70 per cent of women have three or more physical problems such as exhaustion, back pain, breast problems and incontinence. Six months after giving birth, half of women still report three or more problems.
"They need support to recover and regain health at the same time they're trying to initiate breastfeeding," Dr Brown said.
Australian figures show women who are older, have higher levels of education and come from higher socio-economic groups are more likely to start breastfeeding. Older women and women who give birth in private hospitals are also more likely to have a caesarean.
Source: Read Full Article