New York Surgeon Dies in Hit-and-Run Car Crash
Vascular surgeon John Chambers Hordines, Jr, 54, has died in a hit-and-run car crash in Cornwall, New York.
Having practiced medicine for nearly 30 years, he is remembered by family, friends, and colleagues as someone who went above and beyond for his patients. "I don't think I've ever known anyone who fought for the patients more," John Powell, MD, who worked closely with Hordines at Crystal Run Healthcare in Middletown, New York, told Medscape Medical News. "He had one of the biggest hearts you'll ever find."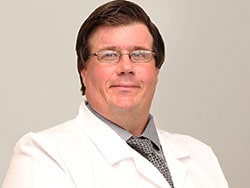 Dr John Chambers Hordines
On Sunday, October 10, Hordines was driving south on Route 32 in a 2010 Chevy Tahoe when he was hit head on by a northbound 2013 Honda Accord that had crossed into the opposite lane, according to a New York State Police press release. The Accord then fled, and Hordines was pronounced dead at the scene. The statement did not mention the cause of the accident or the identity of the person driving the Accord. Trooper Steven Nevel confirmed with Medscape that the investigation is ongoing.
Born in 1967 in the Bronx, New York City, Hordines discovered his lifelong passion for the outdoors at a young age and became an Eagle Scout. Graduating in 1993 from New York Medical College, he completed his residency at the State University of New York, Buffalo, and a fellowship in vascular surgery at Albany Medical Center.
"Patient care was John's greatest priority whether in the hospital, at the office or while making house calls," notes his obituary in the Times-Herald Record. During the COVID-19 pandemic, in addition to caring for his own patients, he volunteered at the ICU at Montefiore St. Luke's Cornwall Hospital in Newburgh, serving as an extra pair of hands wherever needed, Powell said.
A fan of classic rock, Hordines often played music while he and Powell worked together. "It was a lot of joking; a lot of fun," Powell recalled. Outside of work, Hordines enjoyed skeet shooting, fishing, and hunting. One of his greatest joys was traveling with his wife, Beth, and sons, John and Matthew. He also loved classic cars and was "a tinkerer of all sorts," the obituary said. Everywhere he went, regardless of the weather, Powell recalled, he always wore his trademark fedora hat. "Once you saw that hat, you knew it was him."
Hordines is survived by his wife, Beth Hordines, two sons, and two siblings, as well as his two canine companions, his obituary says.
A loyal friend, Hordines was always himself — both inside and outside the hospital, Powell added. Referring to their surgery practice, "the whole thing worked because of us working together," he said. "Now that he's gone, it's a huge void."
For more news, follow Medscape on Facebook, Twitter, Instagram, and YouTube.
Source: Read Full Article