Harvard Medical School Sued Over Stolen Body Part Scandal
A Massachusetts-based law firm has filed a class action lawsuit against Harvard Medical School, alleging that it failed to protect the remains of people who donated their bodies to the university for research and education.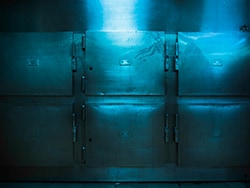 Plaintiffs include relatives of people whose remains were allegedly stolen and sold. The lawsuit alleges that as many as 400 cadavers may have been trafficked in a multi-year scheme. Details were revealed in a June 13 indictment by the US attorney for the Middle District of Pennsylvania.
"Medical schools like Harvard have a duty to ensure [donated remains] are handled properly and with decency and to ensure they are used for their intended purpose of scientific study," attorney Jeff Catalano said in a statement.
"I do think Harvard has that duty," said Arthur Caplan, PhD, director, Division of Medical Ethics, New York University. But, he added, "I will say there's not much they can do when employees set out to systematically undermine them."
The indictment alleges that from 2018 through August 2022, Harvard morgue manager Cedric Lodge stole dissected portions of donated cadavers, including heads, brains, skin, and bones, which were then sold by him and his wife, Denise Lodge, to Katrina Maclean, owner of Kat's Creepy Creations, in Peabody, Massachusetts. Maclean allegedly sold human remain to Joshua Taylor and Jeremy Pauley, both Pennsylvania residents.
On occasion, Lodge allowed Maclean, Taylor, and others into the morgue to choose which parts they wanted, according to the indictment. Taylor, Maclean, and Denise Lodge are all named in the indictment. Pauley was charged separately.
They each face a maximum of 15 years in prison.
Maclean allegedly bought two dissected faces for $600 and shipped human skin to Pauley to be made into leather; Pauley then eventually shipped the "tanned human skin" back to Maclean, according to the indictment. Over a 3-year period, Taylor paid the Lodges some $37,000 for stolen human remains, the indictment charges.
Pauley also purchased human remains from Candace Chapman Scott, who stole them from her employer, a mortuary in Little Rock, Arkansas. The mortuary received remains for cremation from an area medical school, according to the indictment.
After being notified of the investigation in March, Harvard cooperated fully, the school said in a statement from George Q. Daley, MD, PhD, dean of the Faculty of Medicine.
"We are appalled to learn that something so disturbing could happen on our campus — a community dedicated to healing and serving others," the statement said. "The reported incidents are a betrayal of HMS and, most importantly, each of the individuals who altruistically chose to will their bodies to HMS through the Anatomical Gift Program to advance medical education and research."
The US attorney thanked Harvard for its cooperation, saying that it "is also a victim here."
Caplan, who also writes an ethics column for Medscape, agrees. The school was betrayed, he said.
"You expect professionalism, integrity on the part of your doctors, on the part of your technicians, on the part of your workforce," he said. He noted that those expectations are explained in institutions' codes of ethics and policies.
Harvard said Lodge had worked in the morgue since 1995 and that he took several leaves: from September 2021 to February 2022, and again starting February 14. The school terminated his employment on May 6.
His duties included intake of anatomic donors' bodies. He coordinated embalming and oversaw the storage and movement of cadavers to and from teaching labs. When studies were complete, he prepared remains to be transported to and from the external crematorium and, when appropriate, for burial, according to a Harvard fact sheet for families.
The medical school has convened an outside expert panel to evaluate the Anatomical Gift Program and morgue policies and practices. The panel is expected to make its findings public at the end of the summer.
Caplan said he hoped the committee recommends unannounced audits of cadaver donation programs and medical tissue and bone suppliers, which could help expose illicit diversions. "You need to keep an eye, which no one seems to do because it's a state issue and it's not a priority, on that trade in body parts," he said.
He believes other medical schools will reexamine their donation programs, especially given Harvard's status.
"With a prominent place like that having this kind of problem, I can't imagine there's not a little bit of a scramble at a lot of the body programs to make sure that they know that things are as they should be," Caplan said.
Alicia Ault is a Saint Petersburg, Florida–based freelance journalist whose work has appeared in publications including JAMA and Smithsonian.com. You can find her on Twitter @aliciaault.
For more news, follow Medscape on Facebook, Twitter, Instagram, and YouTube.
Source: Read Full Article