Can Rob Kearney Defeat The Mountain and Become the World's Strongest Man?
Three things immediately stand out about Rob Kearney, a 27-year-old rising star in the professional strongman world who looks to make a big impact in this year's World's Strongest Man competition that starts June 13 in Bradenton Florida. The first is that Kearney, at 5'10" and 285 pounds, is a surprisingly normal-sized competitor—relatively speaking—in a sport filled with giants like four-time World's Strongest Man champion 6'8", 440-pound Brian Shaw and 6'9", 440-pound defending World's Strongest Man winner and Game of Thrones actor Hafthor Björnsson. The second is that Kearney's strongman workouts are masterpieces of technique and conditioning, where he uses excellent pressing technique to heft training logs and dumbbells and blasts through sled and yoke runs. And the third is that Kearney, openly gay since 2014 and married to husband Joey Aleixo since March of this year, pulls no punches about matters of identity.
"I'm here for two reasons: to succeed at the sport of strongman, and to show LGBT folks and everyone else that this sort of success isn't just possible but normal and acceptable," Kearney tells me. "Look at my Instagram"—where Kearney goes by the handle worlds_strongest_gay, while husband Aleixo is worlds_gayest_strongman — "and that's what you'll see: me lifting heavy weights and hanging out with my husband."
A guy in the crowd was shouting dumb slurs. I said, 'Dude, I suck dick and I'm stronger than you.'
For Kearney, this level of self-assurance has come after a decade of consistent improvement in his chosen sport. Back in 2009, Kearney was just a beefy if somewhat undersized 17-year-old kid looking for something to do besides football — and a teacher at his high school tossed him a life preserver, inviting him to train at the local CrossFit gym. And while Kearney wasn't built to blaze through Fran in record time, he did flash some innate talent for lifting heavy weights.
"But it wasn't like I was fantastic right off the bat," he says. "While I did begin participating in strongman competitions right away, that meant I finished last in eight consecutive events. That was fine, though, because my goals were always modest and incremental—do slightly better at this contest, improve my max in this lift by few pounds or my time in this event by a few seconds. Anything more than that, I think, and you'll get discouraged and want to give up. And gradually I got better, with a longer runway than most because I was just a teen when I started. I've had time on my side when it came to getting better."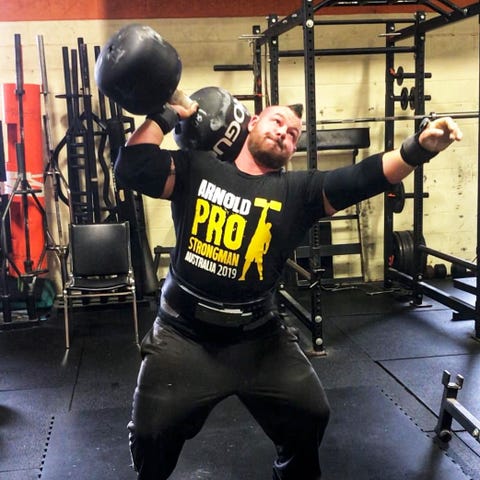 Courtesy of Rob Kearney
After high school, Kearney enrolled at Springfield College — an alma mater shared by massively muscled WWE great John Cena and Gay Games founder Tom Waddell — and studied athletic training. "I also joined the school's powerlifting team, and helped remake it into 'Team Iron Sports,' which went beyond powerlifting to include strongman and bodybuilding-style training as well," he says. "I was still below 200 pounds and also commuting to South Windsor, Connecticut, to train at Lightning Fitness, because that meant I had the opportunity to train alongside people who were better than me."
During this period, Kearney pursued his undergraduate and then graduate degree while laying the literal and figurative groundwork for a career in strength sports. "The successes started to come, slowly but surely," he says. "In 2010, I placed in the top three at the strongman amateur nationals, and in 2013 I won that event and got my pro strongman card. I was setting and meeting manageable goals. I was improving, gaining weight and muscle mass, but also and more importantly becoming technically as close to perfect as possible at the lifts I was doing."
In 2014, Kearney—just 22 but already someone on the strongman map—decided to publicly disclose his sexual orientation. "Although this continues to improve as social attitudes change, it is still very intimidating for an LGBT person to enter a gym and engage in strength training," Kearney says. "There are a bunch of stigmas around that, the kind of baggage and negative thinking that will get in the way of a person accomplishing everything they want at the gym."
View this post on Instagram
#transformationtuesday from young dumb gay boys to husbands taking over the world!! . . . . @worlds_gayest_strongman has supported me, had my back and pushed me further than I ever thought possible and without him I wouldn't be where I am today. As the saying goes "behind every strong man, is an even stronger man" 😜 . . . . @worlds_gayest_strongman #kearneypower #gay #gayathlete #gayjock #gayfollow #gaystrongman #gaymuscle #gayscruff #scruff #gaymen #gayhunk #instagay #gayboy #gaylife #gaypride #gaystrength #gayfit #gayabs #gayfollow #instamuscleboy #husbands #gaylove #instagood #barebeef #gayfitfamous #breakthestereotype #studmuffinsdaily #gaystud #gaylove #gaycrossfit
A post shared by Rob Kearney (@worlds_strongest_gay) on
The strongman community was extremely supportive. "Brian Shaw texted me to tell me he appreciated my courage. [Arnold Classic and America's Strongest man winner] Derek Poundstone, who is coaching me right now, said the same thing. And that's what I've seen from these high-level athletes: they're all competitors who value strength and performance, and they're not going to think in terms of stereotypes, they're going to think in terms of this being a community of people who have a shared goal of getting stronger," Kearney says. "You can be whatever or whoever you want to be, as long as you're competing your hardest, and that's an attitude that needs to be shared more widely."
Trolling, meanwhile, has come from the usual quarters: anonymous online commenters spewing random hate speech from behind the safety of their keyboards. "When there's been trolling, it's almost always this online stuff," Kearney says. "In person, when people hear my story, they're very understanding, very interested. Or maybe they're a big-time lifter and they're just very interested in training alongside me, because they want to get better the same way I did, and this other stuff isn't important to them, isn't something that will even come up."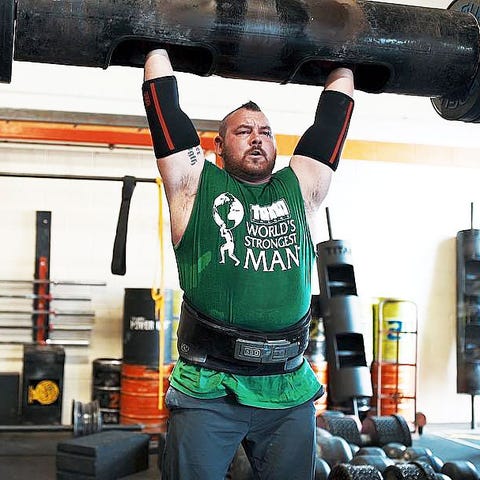 Courtesy of Rob Kearney
That said, Kearney has dealt with a bit of real-life heckling. "At one contest, I had someone in the crowd chirping at me, shouting the usual dumb slurs," says Kearney. "And after listening to that for a while, I just looked at the guy and told him, 'Dude, I suck dick and I'm stronger than you.' That was the end of that."
Hecklers are easily silenced by winning, and winning—or at least progressing in his World's Strongest Man career—remains Kearney's goal. "I was in two World's Strongest Man competitions, in 2017 and 2018, but I didn't get out of the qualifier heats and into the finals," he says. "But this year the lineup of competitors in my heat and the list of events seem tailor-made for my skill set. I'd like to finish in the top two of my qualifying heat and get into the finals this year and then see what happens. That's my current goal. But there's still a lot of time. You've got top stars who have participated in this sport well into their thirties, and I'm only 27. I've already won the Log Lifts World Championship and set the American log lift record [471 pounds]. There are many more workouts ahead of me, many more modifications I can make to my programming. I've quit my job and I'm able to train full-time for this now. I'm going all-in."
With Kearney only a decade removed from the start of his career, what would he want to say to a young kid who shared his circumstances—confused about their identity and casting about for a sport in which to excel? "I find it gratifying to get messages from LGBT teens and adults telling me I've made them feel comfortable enough to pursue their goals in strength sports," Kearney says. "And if I had to tell that kid, that younger version of me, something I would have wanted to hear, it'd be to urge him to keep training to be the person everyone else said you'd never become. Many people thought I was undersized for football. Many people wrote me off as a serious competitive athlete, someone without untapped athletic potential. But I managed to turn one lucky invitation to a gym into an entire career, and I became a professional athlete. People didn't see that potential in me, but I saw that in me, and I trained until I'd brought it to the surface."
For Rob Kearney, shocking the world by winning the World's Strongest Man this year would be a feather in the cap, but a decade spent deep inside the strength sports has taught him patience. A one-pound personal best is still forward progress, and progress toward a brighter future, however halting it might be, is what really matters.
Source: Read Full Article