3 Ways Joining a Team Made Rich Froning a Better Athlete and Coach
It's natural to question whether Rich Froning's passion has waned since ditching individual competitions in 2016.
After all, what could possibly motivate the champ after winning back-to-back individual CrossFit Games competitions and being tabbed as the "Fittest Man in History?" He walked away then, but he still competes as part of a team in group settings. You might think that Froning would be content to take it easy and let others pull the weight, as anyone who's completed a group project can attest is a tempting proposition. But Froning says that sharing the spotlight has actually recharged his love of the sport.
"Over the years of competing as an individual, I got a little bit burned out and tired of competing for myself," he tells MensHealth.com. "Being on a team you push a lot harder for other people."
That extra motivation has paid off. Froning's team, CrossFit Mayhem Freedom, placed first in the group division in last year's Open. In some ways, Froning feels that joining a team has challenged him to be a better coach—and, even though he is one of CrossFit's true legends, an even better competitor.
He's learned to be a better coach.
Working on a team has taught Froning how to train other athletes even better. Although he prefers to "lead by example," the 31-year-old recognizes there's not just one type of person who makes a great athlete or coach.
"Some of the people on the teams I've been on need to be uplifted and kind of loved on," he explains. "And some people don't need that at all–they need to be pushed; more hyped up."
It keeps him agile.

Froning thinks most people would be surprised to learn that, for the most part, his team has no formal training plan. Outside of Mondays and Thursdays, which are designated swim days, everyone just shows up not knowing what to expect.
"We'll kind of look at the white board, discuss what we've done or haven't done, how everybody feels," he explains. Sometimes, the other athletes might mention moves they haven't done in a while, and then they piece together a workout from there.
That type of setup may sound chaotic, but Froning believes it helps better prepare him for competitions.
"It's more valuable than people think, in that for the CrossFit Games we don't really know what we're training for or what's going to show up," he says. "This way we're ready for anything."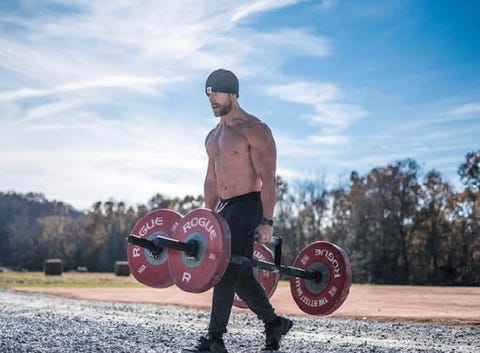 Froning has recently started heavy lifting again after recovering from a meniscus injury.

Rich Froning
He's motivated by others.
Even elite athletes don't always enjoy working out. When Froning's teammates gather at his gym in Cookeville, Tennessee, the hardest part is just getting started.
"Nobody wants to start moving," he says. Eventually, someone warms up, and the others join in to tackle the day's training.
"Once we get past the first workout it kind of snowballs after that," he says.
Another big driver is the the pressure to not be the one to disappoint your whole crew, according to Froning. There's a huge incentive to show up strong in solo competitions, which is escalated when you have to think about performing below the high expectations of your teammates.
"You don't want to be the weak link or the person who lets other people down," he says. "I actually think it's a lot more motivating to do it on a team than individually."
Source: Read Full Article